Scheduled reports allow you to configure a campaign performance report based on configurable criteria that will be emailed to users in your organization at a specific cadence.
Recipients will receive a copy of the report as an attached xlsx file. In this article, we will cover how to generate a new scheduled report.
Note: Sourcepoint currently only supports scheduled reporting for our GDPR report .
To schedule a report, click Reporting on the left-hand panel and select Scheduled Reporting from the menu.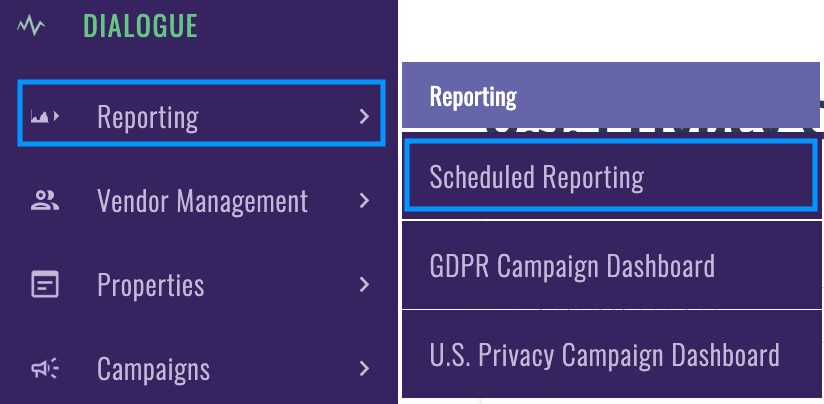 The subsequent page includes all previously configured scheduled reports in your Sourcepoint account. Click New to start a new scheduled report.

From the top of the report scheduler, input a name for the report and use the Recipient dropdown menu to select one or more recipients who should receive an emailed copy of the report.
Note: Scheduled reports can only be sent to recipients who have a user account for your organization in the Sourcepoint portal.

By default, a scheduled report's filter is set to include all value options for each of the following filters. Value options for regions, devices, browsers, and OS family are provided by Sourcepoint.
Property
Regions
Devices
Browsers
OS Family
Select any of the filters to narrow down the scheduled report.

Use the Break Down Report By section to select which criteria should be used to break down the report.
Note: Alternatively, you can decide to not select any break down criteria and elect to receive a summary report across all selected filters.

Finally, use the Date Range section to schedule the cadence for which the report will be sent to the recipients. Please see below for more information about each frequency option.
Frequency
Description
Custom

The report will be sent only once to recipients and have a date range limit of 31 days. Additionally, your organization can only send this report 5 times every month.

Note: Once created, the report will be sent immediately to recipients and will not be recorded in the list of scheduled reports on the Manage Reports page.

Dynamic

The report will be sent to recipients based on the subsequent selections:

Weekly: sent to recipients every Monday with a date range of the previous 7 days.
Monthly: sent to recipients every first of the month with a date rate of the previous month.

Click Create when finished.
The report will be added to your Manage Reports page for the Scheduled Reporting feature and default to activated (i.e. it will begin sending at the next specified frequency).