Permission: Vendor list - CCPA
In this article, we will cover the following configurations specific to a CCPA vendor list:
To start, click Vendor Management on the left-hand panel and select CCPA Standard from the menu.

Select a CCPA vendor list from the subsequent page.

---
Manage purpose on CCPA vendor list
To add a purpose to a CCPA vendor list, click + Add Purpose from the bottom of the CCPA vendor list builder.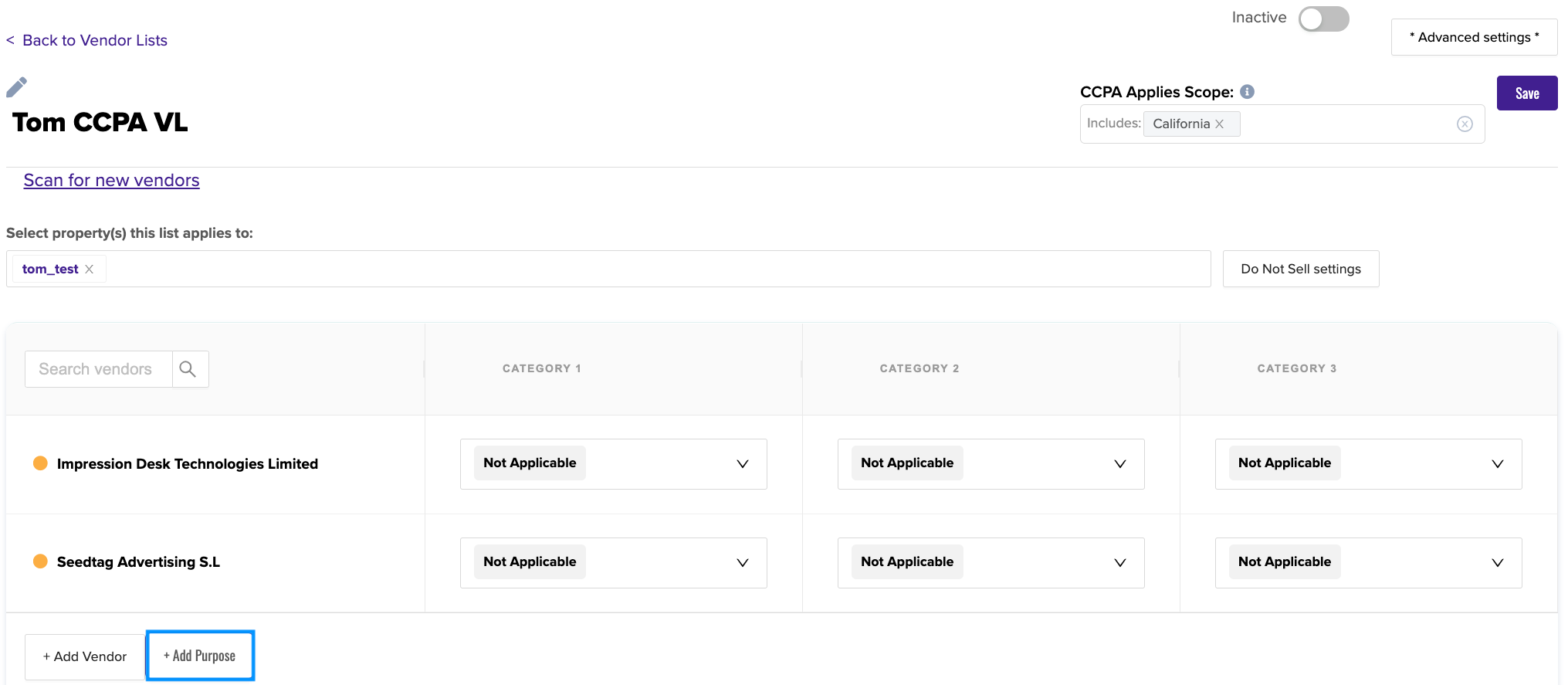 The purpose will be added to end of the purpose column. Set the legal basis for the new purpose for each vendor in your CCPA vendor list.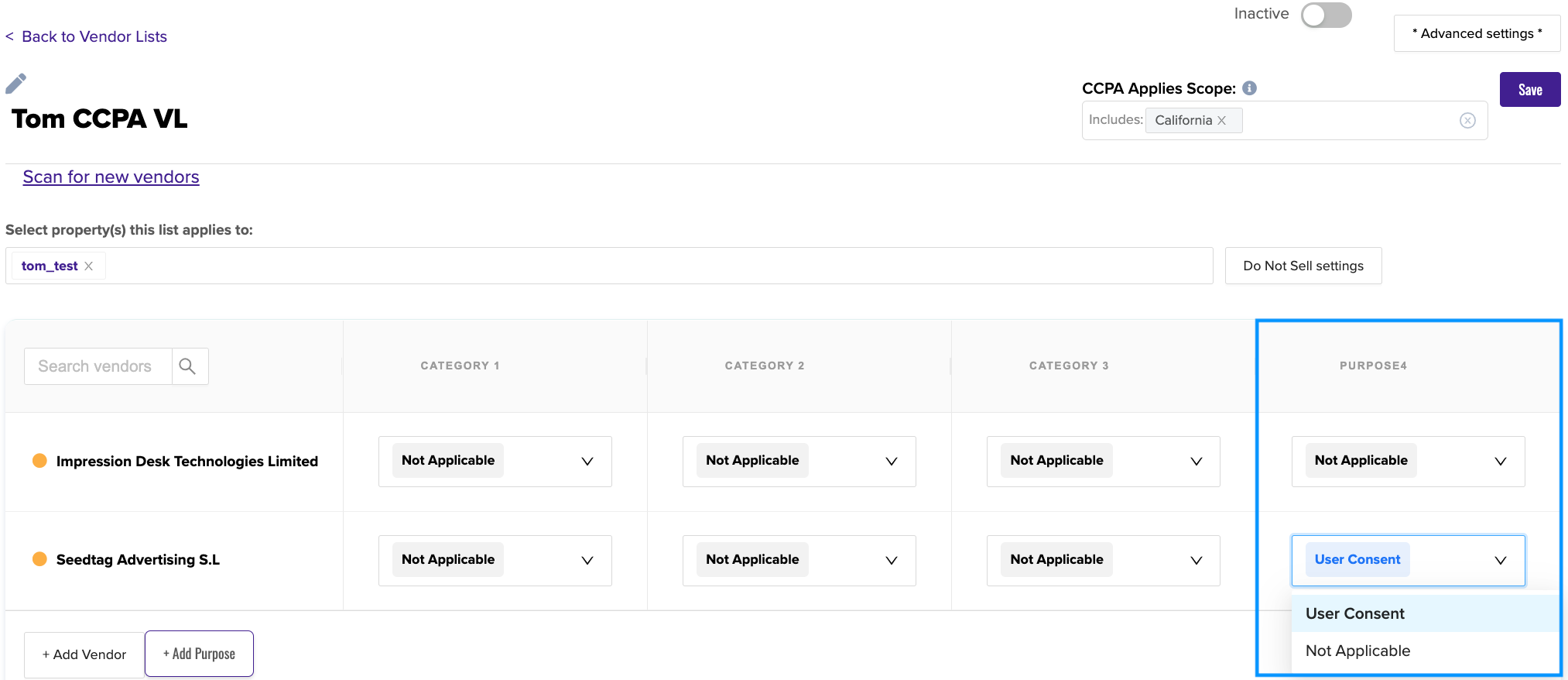 Edit the details of the purpose (e.g. purpose name, consent actions, etc...) by selecting the purpose name.

Use the subsequent modal to edit general settings, consent actions, and reject actions. Save any edits made by clicking Apply changes.
Note: This modal can be used to delete the purpose from your CCPA vendor list by clicking Remove.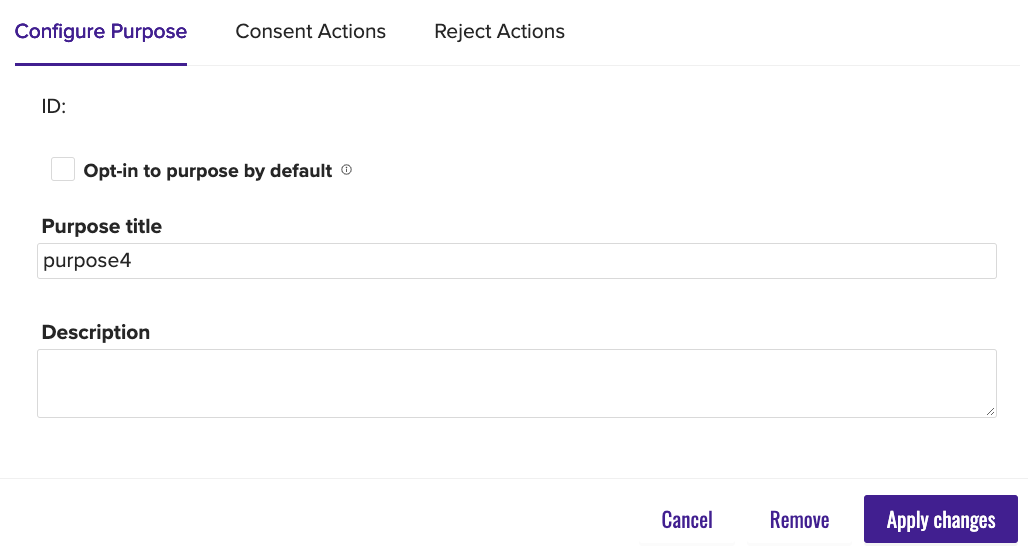 ---
Advanced settings for CCPA vendor list
The advanced settings modal for a CCPA vendor list allow a user to configure certain settings that will applied to the entire CCPA vendor list
From an existing CCPA vendor list, click *Advanced settings*.

The following advanced settings can be edited for the CCPA vendor list:
Advanced Setting
Description
Auto add new vendors

Automatically adds newly discovered vendors on your properties to the vendor list.

Note: Only available for organizations with the vendor scanning and categorization feature.

Add all IAB vendors
Automatically adds all the vendors from the IAB Global Vendor List (GVL) and keeps them updated daily.
Write 1st party cookies to root domain
Ensures that consent data is written to the root domain of the property (./example.com). This is useful for properties that utilize subdomains so that the data is shared across all subdomains.
Write 1st party cookie from the server
Used to set first-party cookies on the site's top-level domain. It requires a domain to be setup at the same top-level domain of your site and uses CNAME to point to a Sourcepoint provided domain.
Respect Global Privacy Control
Ensures that properties associated with the vendor list respect the Global Privacy Control (GPC) signal from an end-user's browser if it is enabled. Click here to learn more about the GPC signal impacts the US Privacy String.
Consent cookies expiration
The length of time (in days) consent cookies are valid.
Use the subsequent modal to edit the advanced settings for the CCPA vendor list. Click Apply Changes when finished.